Silestone
Its unique characteristics make this material resistant to almost any conditions, combining beauty and functionality. Indisputable leader in countertops for 25 years, Silestone is made of more than 90% of natural quartz what makes it possesses strength of its surfaces, by providing the outstanding resistance and durability properties that you need in your home.
Silestone is a non-porous and stain-resistant surface for coffee, wine, lemon juice and many other everyday products. It offers customers a 25-year warranty for Silestone Indoor kitchen worktops. With more than 80 different colors, textures and finishes. Polished-Richer and Finnier colors. Volcano- Rugged, beautiful, and Original Suede- Velvety and soft texture.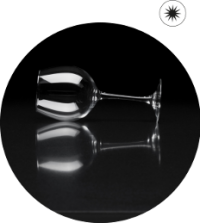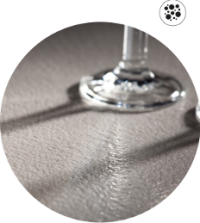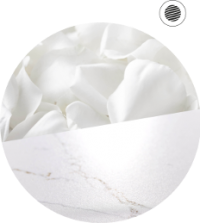 -Stain Resistant- Low porosity surface which guarantees zero liquid absorption.
-Acid Resistant- Ultra resilient to external attacks.
-Shock Resistant- Resists impact better than other materials on the market, such as granite, or solid surfaces.
-Scratch Resistant-Given the natural strength from the quartz, Silestone oresebts an outstanding scratch resistance.
Silestone is the ideal choice not only for countertops but also for basins, floors, and wall tiles, so you can enjoy beautiful and resilient surfaces for longer.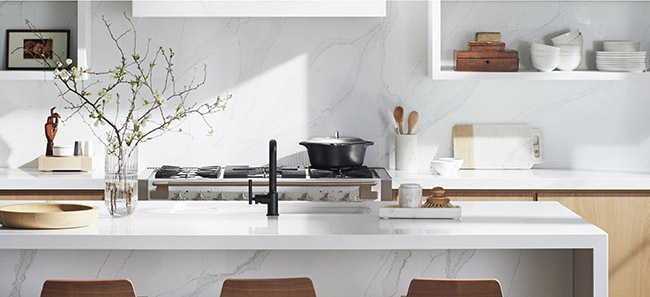 Caesarstone
Caesarstone, founded in 1987, is the inventor of quartz surfaces. The company is the first to utilize advanced technologies and expertise to produce high-quality surfaces consisting of up to ~90% quartz, bin Caesarstone has received worldwide recognition for our commitment to quality, safety and environmental standards. Each and every one of our surfaces is carefully inspected to ensure it meets the highest level of international quality standards. Caesarstone designs retain the cool tactile qualities of nature's strong minerals with enormous application possibilities including kitchen countertops, bathroom vanities, and furniture for the home.
Caesarstone surfaces require minimal maintenance to keep them looking like new. Just gentle cleaning with soap & water or a mild detergent ensures ease of care for long-lasting luster. Caesarstone has received worldwide recognition for our commitment to quality, safety and environmental standards. Caesarstone's inherent characteristics such as hardness, non-porous, scratch, stain resistance and durability, providing consumers with excellent surfaces for their interior spaces.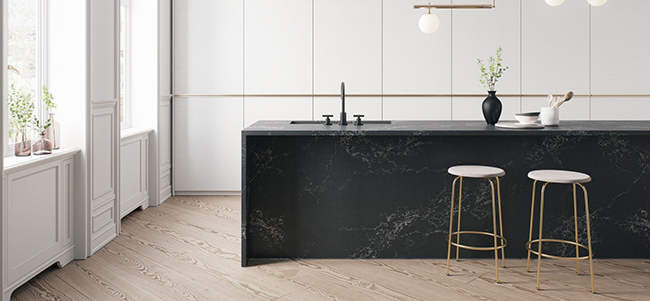 Caesarstone Collections
Supernatural collection
Supernatural combines the beauty of nature with the superlative performance of Caesarstone quartz.
Classico collection
This classic, multi-color collection ranges from salt-and-pepper motifs to vivid color blends, ideal for a variety of residential and commercial applications.
Metropolitan collection
The Metropolitan Collection is crafted beauty reflective of the layers found in industrial art and architecture, highlighting dimensional surfaces and unpolished colors, and bringing texture to the surface.
Concetto collection
Concetto presents 10 individually cut and bound semi-precious stones in elegant handmade surfaces. Featuring unique colors and translucent surfaces, Concetto will enhance the design of any luxurious interior.
Cambria
Cambria is a family-owned, American made company who believes in constantly reexamining their business to ensure that they are delivering the quality of products and service that you deserve. Cambria is handcrafted, using pure natural quartz, American ingenuity, and artistic innovation to make the world's finest countertops. This quality enables Cambria to proudly offer a transferable Full Lifetime Warranty against manufacturing defects. Feel the confidence and freedom of living with your Cambria, knowing that they stand firmly behind every product they make and every customer that they earn.
Using the finest ingredients and our own proprietary technology, we're able to create a design palette with breathtaking beauty and exquisite depth and clarity no other quartz manufacturer can match. Their most recent innovations include selections that may be backlit to add dramatic new elegance to any space.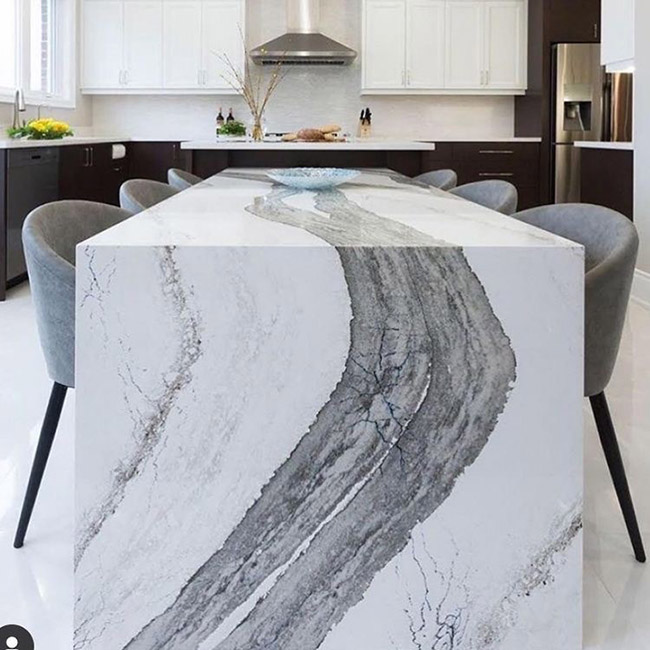 MSI Premium Q Quartz.
Q Premium Natural Quartz embodies modern elegance with the perfect mix of natural and manufactured materials for superior style and performance. Q quartz adds elegance to your space without compromising practicality. Not only does Q stand-up against scratches, chips, and stains, it also never needs sealing, polishing, or reconditioning.
Q Premium Natural Quartz embodies several environmentally preferable characteristics that today's eco-conscious consumer values. Here is why you can feel good about choosing Q.
GREENGUARD, LEED, NSF, and KOSHER certified.
Non-toxic and void of any potentially hazardous foreign substances.
Low volatile organic compound (VOC) emissions, contributing to indoor air quality.
Easy to care for and maintain, minimizing the need for harsh chemicals.
Made from quartz, an abundant natural resource.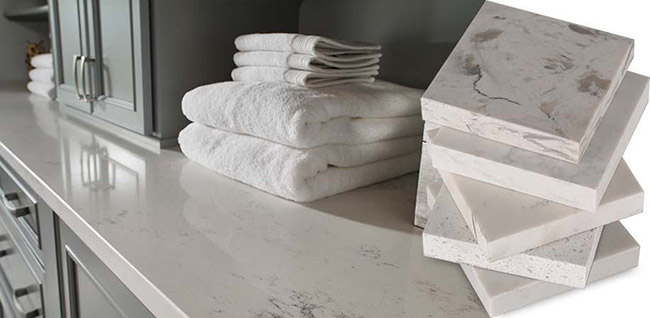 Pental Quartz
Pental Quartz combines the timeless beauty of natural stone with superior strength and durability.
Enginnered for easy care, this surface requires little maintenance, is resistant to heat, stains, and scratches, all while providing infinite design possibilities. It is ideal for nearly any interior application, kitchen countertops, bathroom vanities, bar tops and tub surrounds.
Pentalquartz is made from 90-93% natural quartz and 7-10% high quality polyester resins and pigments.
Slabs are available in polished 2cm and 3cm thicknesses, depending on the market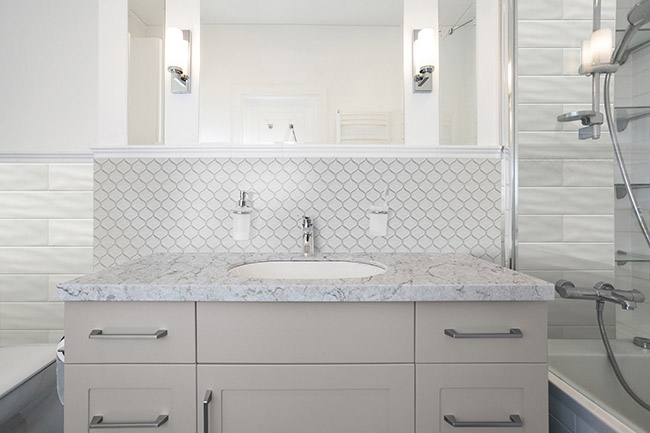 Dekton
Dekton Offer a wide range of different Thickness that can be use based on the application and desired effect. Also Offered in large format slabs that open up new possibilities that has been unthinkable before.
-Highly resistant to ultraviolet (UV) rays and has superior color fastness so it doesn't fade over time, making it the perfect choice for both interior and exterior applications.
-Highly scratch-resistant surface. Domestic utensils will not scratch it. However, it is recommend that chopping boards are used to protect the utensils.
-Highly resilient thanks to its low porosity, resisting accidental stains from domestic use as well as from chemical agents. Even tough stains such as wine, coffee, ink, and rust can be easily cleaned.
-Excellent resistance to high temperatures without compromising on its esthetics or features. Hot utensils, electrical appliances, pots, and pans can all be placed directly on the surface without causing any damage.
-Resistant to abrasion than granite, which makes it the ideal surface for commercial applications and high-traffic areas such as flooring and facades. While other surfaces will show the effects of wear and tear over time, Dekton's finish will last for the entire life of the product and will never need to be replaced or retouched.
-Low thermal expansion coefficient of Dekton makes it resistant to thermal shock, going from heat to extreme cold. Its natural resistance to freezing and thawing make it the perfect material even for the most extreme cold environments.
-Large format up to 125.98" x 56.69" the design possibilities increase along with the range of applications in kitchens, bathrooms, flooring, and wall tiling.