Caesarstone
For the first time, Caesarstone combines the best of all it has to offer by taking the luxury of quartz to the outdoors. This groundbreaking Outdoor Countertop Collection provides the convenience of stain-resistant, easy-to-clean surfaces, while innovating a highly durable material proven to withstand all the elements—rain, snow, or shine! Our new Solaris Outdoor colors are patent pending and tested to withstand the most extreme environmental conditions over the long term. The Solaris Outdoor Collection provides an answer for consumers' desire to cook, dine and entertain comfortably in an outdoor kitchen! Other uses range from patio dining table to poolside bar tops. The hospitality industry is also taking not for outdoor dining and social areas.
Midday Color- #405
A sandy white surface is embellished by warm grey and soft white flecks adding texture and depth to its neutral façade. With the popularity of outdoor gathering spaces comes the desire for materials that can allow for a leisurely outdoor lifestyle. The organic look of Midday correlates with the beauty of nature. All Caesarstone Outdoor colors are patent pending!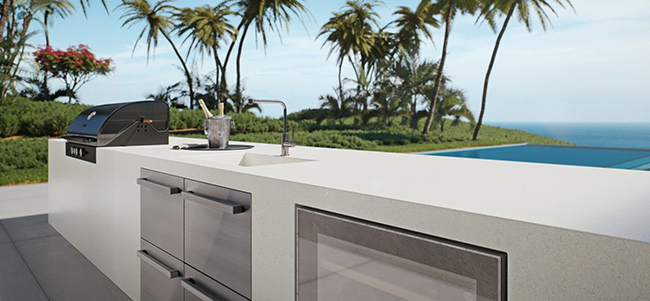 Solaris Collection—New Outdoor Quartz Surfaces
Welcome to the Outdoor Quartz Collection! Caesarstone brings the quality quartz countertops you know to outdoor dining and cooking spaces! Quartz is one of the best materials for outdoor countertops as Quartz is a rather sturdy and resistant stone to work with. So no matter the weather, your countertops will remain looking fresh and newly installed.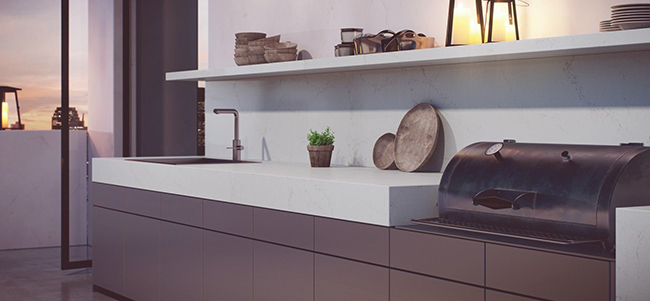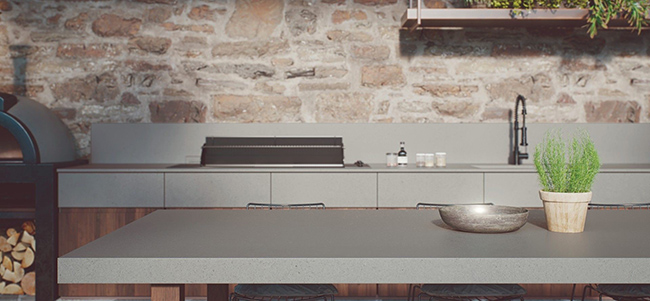 Dekton
Dekton Outdoor Countertops offer a wide range of different thickness that can be use based on the application and desired effect. Also Offered in large format slabs that open up new possibilities that has been unthinkable before.
-Highly resistant to ultraviolet (UV) rays and has superior color fastness so it doesn't fade over time, making it the perfect choice for both interior and exterior applications.
-Highly scratch-resistant surface. Domestic utensils will not scratch it. However, it is recommend that chopping boards are used to protect the utensils.
-Highly resilient thanks to its low porosity, resisting accidental stains from domestic use as well as from chemical agents. Even tough stains such as wine, coffee, ink, and rust can be easily cleaned.
-Excellent resistance to high temperatures without compromising on its esthetics or features. Hot utensils, electrical appliances, pots, and pans can all be placed directly on the surface without causing any damage.
-Resistant to abrasion than granite, which makes it the ideal surface for commercial applications and high-traffic areas such as flooring and facades. While other surfaces will show the effects of wear and tear over time, Dekton's finish will last for the entire life of the product and will never need to be replaced or retouched.
-Low thermal expansion coefficient of Dekton makes it resistant to thermal shock, going from heat to extreme cold. Its natural resistance to freezing and thawing make it the perfect material even for the most extreme cold environments.
-Large format up to 125.98" x 56.69" the design possibilities increase along with the range of applications in kitchens, bathrooms, flooring, and wall tiling.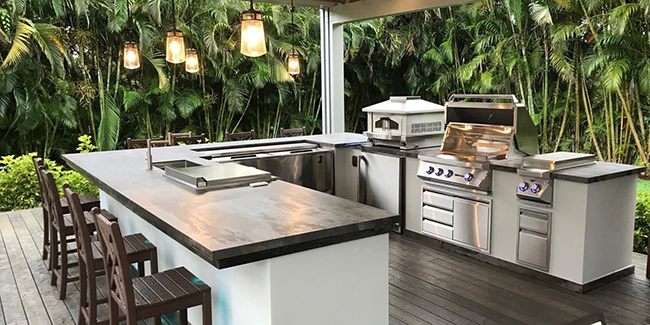 Trilium
Dekton Trilium- Industrial Collection offers a mixture of colors inspired by volcanic stones and intense gray and black touches. Created with up to 80% recycled material, Trilium was born in 2016 becoming the first ecological color of Dekton.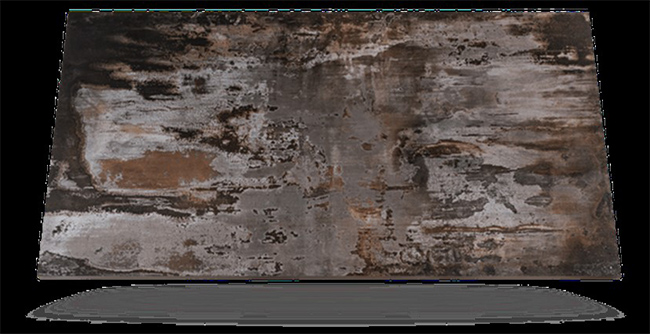 Check out some accessories to go with your countertops.