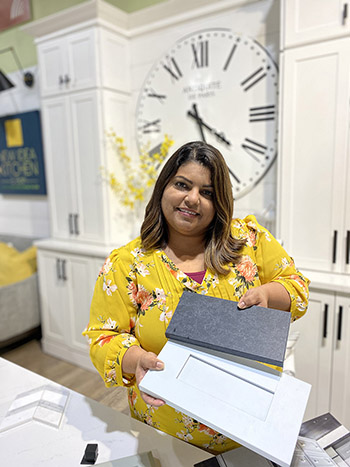 Working with your designer
Working with an experienced kitchen designer can bring a lot of value and insight into your kitchen & bath renovation, not only in providing helpful guidance in the material selection and staying within budget, but also in designing a space that is functional and caters to the particular way that you use your kitchen.
Preparing for first Design Consultation
To ensure that you are getting the most out of your designer, it is helpful that you take a few steps in preparation to the first consultation.
1. Download Planning Guide – It is a complete, step-by-step guide with helpful tips from setting up a renovation budget, how to measure your space, description of different design styles, wood species & finishes, as well as decorative trim and accessories. This information will help you prepare for your first design consultation.
2. Pictures & Inspiration – Bring any pictures, whether these are from online sources such as Houzz, Pinterest, or any home décor magazines. feel free to check out our inspiration tab or our gallery. It is also important to bring pictures of your current kitchen, especially if you are not replacing your flooring or changing wall colors. Pictures will help your bath or kitchen designer identify entryways and other details relevant to the design.
3. Your Lifestyle Consideration – Take some time to consider how you use your kitchen or bath and what things are important to you, such as:
a. Kitchen – whether you need additional storage, room for entertaining, are you an avid cook and need room for special appliances and expanded pantry, ease of use when it comes to accessing your things from high shelves, safety lock for access to medicine, as well as charging stations and pull down devise holder if you like cooking while watching cooking videos.
b. Bath – Consideration on the kind of storage needed for towels, special soaps, salts and other toiletries, clothes hamper, double vanity sinks. Also, special needs accessories (i.e. safety grab bars).
4. Appliances – If you are replacing your current appliances, it is important to have information about the kind of new appliances you are planning to have in your new kitchen.
First Design Consultation – In Showroom
– Discovery – Designer will go through a series of discovery questions and chat about your project to identify your goals, needs and wants, budget, and timeline, and answer all your questions.
– Materials – The material selection process begins with the assistance of the designer who will help you pick colors and texture combinations to achieve the looks and style desired.
– Designer will provide references to reputable contractors that can provide you with a quote for the installation of your cabinets.
– Scheduling of in-home measurement appointment.
In-Home Measurement of Space
Aside from getting more detailed measurements of your space, an in-home measurement appointment will also provide the opportunity for the designer to view the space in person to get a better understanding of the dimension and overall flow of your kitchen.
It also helps the designer identify additional details that may not have been considered on the initial consultation, such as AC vent locations, water line location, bulkheads, and exhaust location which can impact the design.
Presentation of Your Future Kitchen or Bath
This meeting can be virtual (via ZOOM meeting) or in showroom.
Your designer will be presenting you with a realistic, high quality, 3D design rendering of your future kitchen or bath. This visual representation will help you visualize your new space.
At this point, should you decide on going for the blue island instead of the natural texture brown? No worries. Adjustments of your choice can be made at this time.
Order of Materials
Once you are happy with your selection and design plan, your designer will get approval from you to order materials to be delivered at the project address.